Greetings traveler.
---
We welcome you to Delirium, where things are not what they seem and magic is just the beginning of your adventure.
---
This is a fairly new site, being only about 2 and a half months old. Our setting takes place about 400 years into the past - x391 being the current year - and dragons freely roam Earthland. While humans and dragons are currently in peace with each other, there is darkness brewing and that fragile line of truce between them might just break soon enough.
---
Episode One: Bastion, The Ironclad Dragon is now open!
---
Enjoy your stay, and please...
---
Stay delirious.
---
---
Administrators
---
Syrena
---
Erik Cecere
---
Global Moderators
---
Heero Villenn
---
Moderators
---
Darion Steinheil
---
Grimm
---
---
Fairy Tail © belongs to Hiro Mashima
---
Fairy Tail: Delirium © Spitfire
---
Pre-made skin is credited to hitskin.com in forumotion. All other codes for FT: Delirium were taken from various coding sites via google. Said codes and pre-made skin have been edited and modified to suit the needs of the website. Any and all other content (i.e.: posts, applications, stories, plots, etc.) solely belong to their creators and makers of FT: Delirium. Nothing may be taken or used without the owner's permission, excluding certain situations listed under the Terms of Service and Rules, which are subjected to change without warning.
---

Mission Link:
Jewels in the Bank
---
So what is it gonna be, huh? This one… Demolition request? Or this… escorting request? Don't get any wrong idea with the escorting part as it appears to be a different one…
He won't be talking to himself the whole day though.
Chris has just started his day and is already on his way on picking a mission to do but he's stuck with two requests as both were asking for his participation. Its got his name on it. On his left hand, as he carefully read the instruction, something about renovating a building, he simply lower his head as it looks uninteresting for him. That gives him the second choice.
"Riverbanks… does this have something to do with that?"
He's referring to the large building right next to their guild house. He's not fond of such thing, mostly social stuffs, stuffs which happen around the place… but there's only one thing to find out. He's all set to go, anyways.
Chris left the mission request back at the board with a note. Though it looks like it's a personal request, its not really as its asking for like 2 more participants, sadly, Chris' pseudo team is not around. He went to the building he's talking about afterwards. Its just across the street.
"Good day. Please proceed towards the Manager's room. He's expecting you there, sir."
Chris was pleasantly welcomed by the attendants and it did somehow made Chris quite uncomfortable. He does not know how to react on such courteousness and the best thing he made is a forced but an acceptable smile.
"Thanks…"
They most likely did not heard what he said. Inside the room, its damn comfortable. Well conditioned and overlooking at almost the entire half of the city. Chris walks towards the large window of the room, there's no one around, he made himself occupied with the view.
"Ah! Hello! You must be from Sable Pantera."
The gentleman enters from the other side of the room. Its Mr. Riverbanks.
"Welcome. As expected but are you alone?"
Chris reached his hands and the both men shook but it appears like the gentleman is waiting for more. Chris simply gave a satisfied look implying that he's ready to do the mission even if he's alone. It wouldn't hurt if other will participate, too.
"I'm sorry. I'm just making sure. By no means… I'm not belittling your capabilities. Just making sure."
Mr. Riverbanks explained on a very stereotypical businessman. A manager.
"If you mind, have a sit first…"
Chris sat on the large sofa while listening for Mr. Riverbank's briefing. Like what the gentleman said, he won't be explain the sum of the mission until the people he's waiting, presumably the other participants, arrives. He first read the papers concerning the mission but for Chris, the details on it is enough.
Word Count: 472
Yami had just walked into the guild. The day was boring thus far and he was hoping for something to change that.

Luckily, something caught his attention on the request board. Yami walked over to the board and looked at a request paper with a note on it. Apparently, the person who took this request wanted another two people to help him.

Yami simply looked over the request and nodded to himself. He looked out one of the guilds windows and smiled to himself. The building was pretty nice, obviously owned by someone rich. It didn't matter though, a request was a request.

Yami walked across the street and entered the building. He was met by two attendants who looked at him a bit puzzled. "Hi, how may we help you?" one of them asked politely. Yami simply looked at her and looked around. "I'm looking for someone named Riverbanks. Apparently he needed someone for a request." Yami replied before eying both attendants. "Well then, he's straight ahead." She replied pointing at an elevator that lead to a room.

Yami entered the room and looked around. There were two other people in there. One was older than the other so Yami assumed that the younger person was going to be his request partner. "Well, don't stand around, sit down, please!" Mr. Riverbank said gesturing Yami to sit down. Yami simply nodded and sat down beside the other person.

Mr Riverbank turned around as if waiting for someone else. Did he not trust Yami or was he deciding on who to choose for the request? It didn't really bother Yami though. If he went on the request with somebody else, it would surely make it easier.

"Hi there, I'm Yami Shiatsu from Sable Pantera. I'm assuming your a member from that guild as well?" Yami asked politely and quietly as possible. He didn't want to look like a 'goof' in front of Mr. Riberbanks.

Word Count: 342
D Rank






Posts

: 11



The day was young and quite uneventful thus far. Jin wasn't really someone who liked to let the day remain boring though. He had seen on an open listing about some jobs on a public board but he only hesitated because he would be rather disappointed of there were no jobs that required his specific skill-set specialty. Yes he could take any job listed but the only ones that really gave him joy nowadays were ones that tested his metal in combat. Jinchu quickly crossed his fingers and went to give the public board a check.

"Yes, a bodyguard one! This will be right up my alley!" Jin yelled a bit too enthusiastic for the average to understand. But he was the only one looking at the request details for the moment, 'This guy seems to be pretty high-profile,, there is a good chance I will get some action today.' He let that thought fade into the back of his mind but whenever it came back to him he couldn't fight letting out a sly smirk in his own company. He looked at the requirements of the job and looked a little disappointed, '2 or more? I can handle this myself, no doubt. I'll just bring the listing with me so no one else can see it, heh.' It wasn't like Jin couldn't work well with a team, he just thought the mission didn't sound dangerous enough to include an audience; a simple protection detail was easy enough on his own.

There were basic directions on the listing so it did not take too long for Jinchu to reach his destination, 'Wow, nice building. Even bigger than Milton's Mansion, hah!' He let his eyes admire it as he entered, running into a couple of attendants just inside. They gave him a peculiar but almost expected look just before they addressed him, "Hi, how may we help you?" Jin wasn't really the type to be seen in the more classy buildings, his clothes were nice but more in an original sense, they weren't business material and he knew the attendants spotted that as soon as he entered.

"Hey, I'm just here for the request," he said in response as he held the listing up so they could see, "is Mr. Riverbanks around?"

"Certainly. He's just straight ahead."

"Alright, thanks" Without taking time to wait, Jinchu walked on into the next room, seeing that he was not the first to arrive. The first person he noticed was actually someone he recognized, he was about to wave to Chris but the business man cut him off.

"Welcome, are you here for the job too? Sit down please, let's not dawdle!" He seemed a little disturbed or perhaps worried, but not because of Jin's presence.

'Maybe he has an idea of who he needs to be protected from, interesting.' In response he only shrugged and shook his head, "I'd rather not sit if that's okay with you, I can listen just fine on my feet." He took a moment of pause in the room to nod towards those he assumed to be his partners on the job, "Hey Chris, looks like were teammates on this one, heh. Should be fun." He did not know the other mage in the room but he smiled in a friendly manner just the same, "Nice to meet you, I'm Jinchu."

Word Count: 580
______________________________
Jinchu Raizen
|
Crash Magic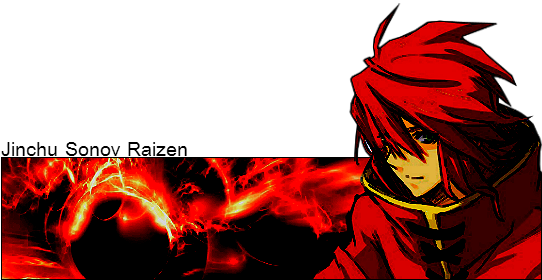 Character Theme:
Come-Back Theme:
D Rank






Posts

: 68

Magic Sheet
Magic:


(500/500)



Chris did not have to wait longer than he was thinking as moments later after he lie comfortable and uncomfortable on the same time, a young man appeared afterwards. Another mission participant and is from Sable Pantera, too. He's not really surprise to see a fellow guildmate and in fact, Chris was really expecting one or two. It's the only guild around after all. "Its Chris…" He stood up and reach for his guildmate's hand. They seem to be not years apart but tying to keep his code, as a professional and is for the job, Chris acted according to his mission etiquette. Though, it does not really hurt if he does act friendly. He tried to be acquainted with his teammate and much to Mr. Riverbanks reaction, he seem indifferent. Chris realized that the gentleman is still waiting for more to come.

Before Chris was able to ask Yami is he came with another fella to join them in the mission, one immediately came. Honestly, he was expecting another Sable Pantera member if not, someone employed directly under their client. "Ah…" It was low and no one probably heard him. He did not have to puzzle himself anymore. As the next person enter the room, Chris slowly move giving himself a space to adjust on who's the person going to be and on the same time, to get a batter look of everyone inside the room. He was surprised to see that the person was Jinchu, an acquaintance. Chris raised his left eyebrow expressing that he was indeed surprise to see Jinchu. He softly grinned but immediately turned it back to his straightforward look.

"Well… I'm not expecting that the roster would be filled right a way. Will there be more, I wonder?" Chris could see the Mr. Riverbanks talking well from his reflection on the window and from there, he followed the gentleman a look as he took the sit in the center of the room. Mr. Riverbanks continues. "But three is enough. If there's anyone else… never mind. Please, have a sit." Chris simply stood firmly with his arms crossed.

"Well, I won't waste more time. The reason you came here for, you ask? You see, gentlemen, this bank is one of the wealthiest and most trusted bank in Fiore. We're manned well enough but the same men were… not fit the nature of what I am asking. I am in need of outsiders that will work for me. At least, this time around." From leaning back on his large chair, Mr. Riverbanks leaned forward and placed both of his arms on top of the table and both hand together. Like praying but more of a person who's thinking deeply. "This evening… for a dumb reason god knows why, one of our small branches outside of Falcon City will be transporting some of our assets to this very building. We have receive a report that the convoy doing the transport is likely to be attack by some low life robbers… I can easily ask the authorities for assistance but it will cost more than if I hire you. Gentlemen, make sure that around the 9th, 10th and the 11th blocks will be clear for the convoy to pass. This is your mission. Make sure that no thieves will lay their hands on the transport." It sounded like any other mission that Chris had gone to but he's still not getting ahead of himself. He listened to the directions that Mr. Riverbanks gave them and as the mission briefing ended, they were send off afterwards.

Outside the building, Chris waited for the right timing to talk to the other men that he'd be working with. Well, there's no really right or wrong timing since time is very essential on doing missions but really, Chris is not the chatty type of person. "Jinchu… Yami…" Once again, he reached his hand. He was glad to meet Jinchu once more as it hasn't been days that they've seen each other and same with Yami as it's the first time that they'll work together. "We'll be working together." Chris acted professional but nowhere near the commanding type. He pleasantly greeted the two as friendly as possible but before he stray off of the mission, he asked the two of their plan. "We still have more than 8 hours until the convoy arrive. Any plan you guys have?" He does have his own plan but there's no I in the word TEAM.

Word Count: 749 / 2500 (1221)
______________________________
Yami silently nodded as the man introduced himself. Yami took a quick second to look at Chris's hand before he shook it. He then withdrew his hand and took a seat on the large sofa. He dislodged his sheath from his hip and placed it right next to him. He had to carry this sword with him everywhere, to keep a family legacy.

Yami remembered that the note Chris posted was asking for two people so Mr. Riverbanks was probably waiting for another person. Luckily, they didn't have to wait long.

A man with red hair came into the room. He was going to be the final partner for Yami and Chris on this mission. Apparently, the man already knew Chris. Probably friends or something of that sort. The man then turned to Yami and smiled. So, his name was Jinchu, interesting. "Hi, my name is Yami." he responded by slightly nodding his head.

Without wasting anymore time, Mr. Riverbanks decided to start explaining the mission to them. As he explained, Yami took a good note of everything he said. He even noticed his posture as he spoke. He was tense at the moment, deep in thought. A typical business man. After he finished, he sent the three on their way.

Once they got outside, Yami took a good look at the area they were standing at. It was pretty big and nice looking. He was so deep in thought that once he hear Chris's voice, he flinched and looked at him. He noticed Chris extend his hand towards both of the men so Yami shook his hand. He asked if they had a plan. Yami smiled but didn't show it. He was the strategic type so hopefully he could come up with something. For now, he just shook his head.

Word Count: 646/2500
D Rank






Posts

: 11



Jin kept his smile with a nod of approval at his new teammate's name, 'Yami, huh? Interesting name, maybe it means something.' He didn't try and ask Yami about his name though as Riverbanks quickly cut in, very clearly wanting to get down to business. He was detailed but quite frank about the situation, it was indeed a protection detail against potential hostiles; Jinchu barely suppressed his excitement, only managing to hold a blossoming smile into what looked to be a sarcastic smirk. If anyone took a good look at him it would be easy to see that he was very interested in the fact that he would be expected to fight.

It was only a moment or so later and he was dismissed with the others, now only needing to decide which street he wanted as his domain. Chris, assuming a leader position, addressed Jin and Yami beside him, asking what either of them might be planning to do for a strategy. In all honesty Jin wasn't one who laid out a plan before he reached the battlefield. He preferred being strategic on his feet, making choices instead of following premeditated steps. Even though he wasn't going to say anything, Yami stood quiet and shook his head, 'Awe great, now I have to at least act like one of us is prepared.' With a second more to think he looked into Chris's eyes, attempting to give a 'strategy' that could be used.

"Alright, I got something," he said as he scrambled for an idea, "pretty much what we have to go on is that these potential hostiles are common thieves. Hopefully the reason we mages were hired is because we will be fighting actual magic users." Jin pause momentarily, appearing as if to be just taking a breath, doing his best to conceal his lack of a solid idea. "What could be done is that none of us show up at our post, making the transport wide open, the actually merchandise being used as complete bait. And if something happens we just jump in."

In all honesty it didn't seem like a bad idea. If the client who hired Jin and the others didn't even know what was actually going on then how could the potential attackers? Before hearing a response though, the red-haired mage piped up once more, "But to be honest. I think it would be nice to just show up unprepared and hope that the biggest threat comes down my street, hehe." His voice would seem a little too eager to the others though. He was a man of average size and his young facial features did not heavily suggest a full-fledged-fighter but there was that look in his eyes. The furrow in his brow and a passion that burned in his gaze, a look of indomitable will.

Word Count: 1064
______________________________
Jinchu Raizen
|
Crash Magic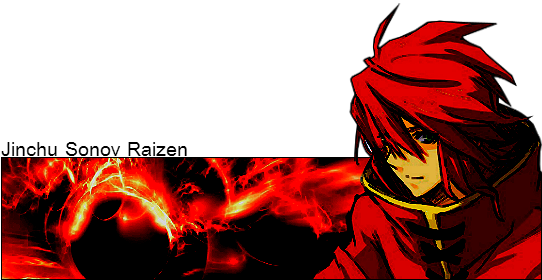 Character Theme:
Come-Back Theme:
D Rank






Posts

: 68

Magic Sheet
Magic:


(500/500)



Chris waited for any bright or probable plans both Yami and Jinchu might have before he told them what he initially planned to do in the mission. He first looked at Yami who seemed to already be thinking of a game plan of his own for the group but then Jinchu said he got something. From a firm stance, Chris crosses his arms and listen to Jinchu. Alright, mate. Let's hear what you got. Chris slightly raised one of his eyebrow showing that, in away, he's curious and listening. He let Jinchu finish although he's right on the most part, some of his idea is the opposite of what Chris want to happen or for them to do.

"Most likely.", Chris tries to get the attention of his mission teammates. "But whether they are magic users or not, we must be prepared.", he adds with a little stronger tone of voice so that both Jinchu and Yami will consider what he's going to say next. He's really the type to keep the mission done as perfect as possible so he pointed the difference of his and Jinchu's ideas. He's not totally ignoring it at all and as a matter of fact, considered it too but for him, it was too risky and its not his approach about such works. "Jumping in by the time the thieves attack is easy... but I wouldn't risk leaving the convoy that open." With the word that being emphasized, what Chris meant is that if they happen to decide not to be visible around the convoy, they should still be able to respond to it almost immediately in case something happen.

Generally, they could do what Jinchu suggested but with a little bit of security on their part. There's nothing wrong about it or its just that Chris is simply taking the matters to hard. "As long as we have our location in check, it will be fine.", Chris put up a soft chuckle as he told the two. From a seemingly tight attitude he had moments earlier, he came at ease showing that he is confident with his mission teammates. "I'll be at the 11th then will move onwards as the convoy pass. The longest part. Yami, since we are both from Sable Pantera, our presence in the 10th block wouldn't be big of deal to those around the place. You should be the one around here. And Jinchu, mate, the 9th is the most populous area among the three mentioned blocks where the thieves might came from. You can easily blend around."

Chris did not waste time and told the two right after he looked at both. Its what he thought the most effective way of being around without being too obvious to the suspected enemies. "In case the thieves jumps in before our designated posts, be prepared to respond. Then we will escort it to its destination. We, three, don't really have coordination to that convoy's men but to Mr. Riverbanks alone. Be wary." If anything, Chris is not really forcing his idea to the two.

There's still 8 hours left and its still early to leave towards their designated post but if they stayed together on the very exact place, Chris thought that they might attract unwanted attention. He's ready to leave trusting the call of his teammates once the convoy arrive. "So... see you once the convoy arrives." He thought that the less communication they have at this point would be better. "Take these. We'll keep in touch." Headpieces. Communication devices once they split and head to their respective posts.

Word Count: 600 / 2500 (1821)
______________________________


Similar topics
---
Permissions in this forum:
You
cannot
reply to topics in this forum