Greetings traveler.
---
We welcome you to Delirium, where things are not what they seem and magic is just the beginning of your adventure.
---
This is a fairly new site, being only about 2 and a half months old. Our setting takes place about 400 years into the past - x391 being the current year - and dragons freely roam Earthland. While humans and dragons are currently in peace with each other, there is darkness brewing and that fragile line of truce between them might just break soon enough.
---
Episode One: Bastion, The Ironclad Dragon is now open!
---
Enjoy your stay, and please...
---
Stay delirious.
---
---
Administrators
---
Syrena
---
Erik Cecere
---
Global Moderators
---
Heero Villenn
---
Moderators
---
Darion Steinheil
---
Grimm
---
---
Fairy Tail © belongs to Hiro Mashima
---
Fairy Tail: Delirium © Spitfire
---
Pre-made skin is credited to hitskin.com in forumotion. All other codes for FT: Delirium were taken from various coding sites via google. Said codes and pre-made skin have been edited and modified to suit the needs of the website. Any and all other content (i.e.: posts, applications, stories, plots, etc.) solely belong to their creators and makers of FT: Delirium. Nothing may be taken or used without the owner's permission, excluding certain situations listed under the Terms of Service and Rules, which are subjected to change without warning.
---

___________
Heero Villenn
___________
---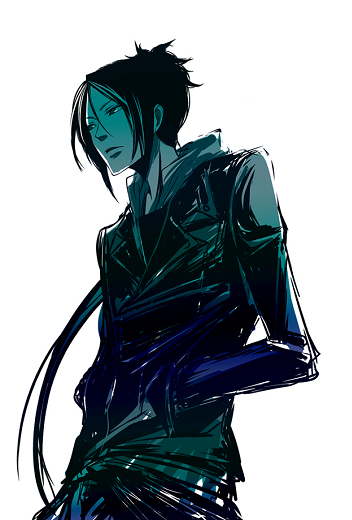 ---
__________________________________________________
"Perfection? How Dull."
---
Nickname(s):
(I'll earn these)
Age:
17
Sex:
Male
Birthday:
February 2nd, X374
Sexuality:
Straight
Affiliation:
Neutral Mage
Rank:
D Rank
Guild:
Fairy Tail
Guild Tattoo:
On his back around the left shoulder. It is a light blue color resembling his eyes.
Physical Characteristics:
Heero's posture is rather normal. Heero doesn't seem to be showing off and making himself seem better than everyone else. Heero stands up straight or occasionally slouches, it makes no difference to him. If Heero's kicked your ass, he may stand over your in superiority for a moment before leaving but Heero won't keep it up. Heero is 5 foot 6 inches and weighs 103 pounds. His skin is rather light but not so pale as to make him look like a vampire. Heero has a healthy above average muscle tone despite his rather small appearance. Heero's smile also makes people pissed off at him because it's one of those smartass smiles that you can't read or tell what he's thinking. His posture and smile make his next move literally unpredictable and only adds to the fear and discomfort people may have around him.
Heero's hair is a deep black with navy blue highlights. Heero's eyes are a deep, bright blue. These eyes are sharp and easily strike fear into all he looks at them with. Heero's eyes have always been his most noticeable feature. They are meant to scare people. Ean's black hair only adds to that frightening display.
Attire/Clothing:
Heero's attire is also rather simple. Heero wears a white long sleeve shirt under a dark, black, sleeveless long coat. The coat is singed and tattered slightly around the bottom and around the ends of the sleeves due to Heero doing jobs of menial labor that messed up the jacket slightly. The damage is not major and Heero has chosen for aesthetic reasons to leave the coat as is. Heero always wears black jeans with a small chain attached to the left side. The bottoms of the legs of these jeans are also tattered in the same manner as his coat for the same reasons. The other reason Heero's clothes are damaged around the edges is also due to the fact they are the only set of clothes he has. Around Heero's neck is an obsidian, black cross with a sapphire blue jewel in the middle. The jewel is shaped like a four pointed star.
Abnormalities:
N/A
Personality:
Heero is simply put, crazy. Random, ridiculous, and insane are all words to describe him. Despite his foolish exterior and personality, Heero is infact one of the most intelligent people in Fiore and perhaps the world. This exterior is not a ruse however and is really how Heero acts. Heero Villenn is simply what you would call an oxymoron. This makes him difficult to predict and impossible to read. Heero can be less random when need be but the urge is always there.
Once you piss Heero off though you can see more of Heero's serious side. Once this side comes out, games are over and you should prepare for a death match because any mercy or pity Heero may have had for you is gone. Fortunately, truely pissing Heero off is rather difficult.
Because of Heero's high intelligence, he is very confident, sometimes even a little cocky. He's usually well prepared and never allows himself to be caught off guard but even so it's no excuse for over-confidence. Heero is also able to direct a conversation in a particular direction and keep him out of trouble with nothing more than words. That smile of confidence he has is known to piss people off, especially the council.. It also really pisses people off when they realized Heero just manipulated them and put them in the wolves den so to speak. Heero usually manipulates the situation by acting. Heero has manners and can be very charming. Although he never uses them unless he really has to or unless he wants to "play".
Heero loves to change things as well. If he can make things better, it makes Heero happy. Once things become unable to improve though, Heero gets bored and usually walks away.
Hobbies:
-Relaxing and Thinking: Heero enjoys thinking about the world and just relaxing. He can often be found lost in thought and zoned out just thinking.
-Fighting: Unlike most people of high intelligence, Heero enjoys a good fight every now and again. He's not some crazy killer mind you. Well, he is crazy but not a killer. Anyway Heero likes to fight every so often. He also needs to in order to be well trained enough to fight without his magic.
Games: Whether they be sports or puzzles or just a game of stare, Heero loves games and also likes to win making him very competitive. He is not a sore loser however and will accept his loss with grace even if it pisses him off.
Likes:
-puzzles: As a man of intelligence, Heero likes to have his mind challenged and likes puzzles of all kinds. He especially loves massive large scale puzzles.
-Change: Heero hates stagnation and likes it when things change. Things are boring when they stay the same and it's nice to be suprised a little every so often.
-Flaws: Although Heero seeks to get better. Some flaws can never change however and Heero has come to realize this. For this reason, Heero has come to cherish the flaws he has even if he seeks to improve off of them. If there are no flaws in the world, Heero has no reason to exist anymore.
-Moon: The moon is a beautiful and humble thing in Heero's eyes. Unlike the sun, it doesn't force away darkness but coextists with it
Dislikes:
-Annoyances: Heero's open to a good debate but once people start just making no sense, Heero gets annoyed. Being annoying just pisses Heero off and makes him plot to throw you off a cliff into shark infested waters.
-Headaches: Heero dislikes getting headaches. The problem is Heero gets them frequently because of over thinking. Headaches prevent him from thinking clearly which is vital to someone such as Heero.
-Cheating: As a lover of games, Heero takes them very seriously. Cheating is something for people who need their ego stroked and have no desire to play the game. Cheating is just one of those things that annoys and angers Heero.
-Magic Council: They are stubborn and inflexible. This bothers Heero as they are not subject to change or improvement and think their way is entirely right. Heero dislikes this obsession with order and restrictions.
Inspiration:
-Improvement/Change: Heero is motivated by the potential to change something. If Heero can try to make things better he'll do his best to improve things. This is specifically towards Heero's desire to get stronger as well. Whether it be physical or mental, if Heero can get better he will.
Fears:
-Perfection: Heero fears perfection. A rather strange fear. Heero fears Perfection because when things are perfect things will never change cause there's no reason to change. Things can't get better if things are perfect.
-Weakness: Heero fears he will be unable to change things because he is to weak. For that reason, Heero seeks out more power.
-Forgotten: Heero fears he will be forgetten because he didn't change anything. Heero isn't afraid to die. He just wants someone to be able to say "Heero was here. His life mattered" after he dies
Augment Name:
Future sight
Augment Description:
Heero's a genius already but every so often the magnified electrical impulses in his body accelerate his brain to such a point Heero's brain processes every tiny things he's seen whether it be conscious or unconscious to predict the future. These visions are normally short and not very descriptive but normally Heero can tell if it's good or bad. Flaws in the prediction are that times are unknown, Heero only knows "this will happen at some point in time" but doesn't know when it will happen. Heero can't use this augment whenever he chooses and it's completely random. This ability is most similar canonly to charla's ability to see into the future only with more restrictions. REQUIRES ADMINISTRATIVE APPROVAL TO USE.
Another alternate requirement to use this ability regards seeing people with this ability. Heero may not see a person without the persons's player's consent as to not force the plot in any direction. This is not optional. If refused to see a person but approved to use the ability Heero can only see a very vague vision of say a storm or a bright light.
When Heero uses this ability his left eye turns blood red and his pupil disappears in that eye. He sees these visions through this left eye.
Augment Name:
Freerunner
Augment Description:
Heero's training in the council has given Heero more agility and speed than most people and he can perform some insane arial maneuvers. Provides a +5 to speed.
Heero doesn't carry any equipment on him other than the clothes on his back and a bag for food.
Heero was born an orphan on february 2nd, X374. On this day he was also born a genius. While in the orphanage that was his home he solved every puzzle in the toy box by his third birthday and was known to correct the priests who were taking care of him. Quickly noticing his genius, the council took him in for training at the age of five. It was here Heero started to learn magic.
The council would soon come to regret taking Heero in. Heero contradicted everything they did and called their reasoning "stupid" and "irrational". Also, Magic seemed to be the one thing Heero couldn't quite master so it was seeming to be a waste of time after 5 years of just a kid contradicting their methods and actions. Ean did however learn basic martial arts and was rather skilled at it and it was the only reason the council kept working with him and didn't dump him back on the street.
One day the guards heard an loud thud outside. When they arrived they saw a wooden beam get launched right in their direction. They weren't hit by the beam but when they looked they saw Heero looking at his hand. They were more beams next to him arranged into a pyramid with the top beam gone. When Heero was looking at his hand their was a small blue voltage around it. Heero looked up at the top of the council building and noticed their insignia. Heero put his hand on one of the top two beams and stared at it. Heero took his hand off it and turned his head to look at the insignia and the beam flew through the air at the insignia and his it square in the middle of it before falling to the ground. Heero's magic awoken at the age of thirteen.
After doing a little study, the council realized Heero was able to use esper magic, the magic of the mind and nervous system. A rare lightning magic that is also considered a disorder and a severe rarity even amoungst geniuses. Heero began training using his esper magic and became acceptable at it at best before getting tired of the council and left because of their stubbornness and inability to find a middle ground. They were just annoying. Heero was about fifteen at this point.
For the next two years, Heero traveled and did small jobs around town like "psychic" readings and finding peoples pets or just doing menial labor. Sometimes Heero looked at companies security details and found flaws in them that needed to be fixed. This didn't pay much but it got Heero by without stealling. Plus the council hated him for contradicting them and leaving but since Heero never broke the law they couldn't arrest him. Heero was very careful not to make even the slightest infraction. Through menial labor on some farms Heero has become able to use a scythe as a weapon to a small degree. During his travels Heero started looking at guilds to join in order to help further his magic, make more money, and protect himself from the magic council. Heero looked at many guilds throughout his travels but settled with joining Fairy Tail. Heero joined Fairy Tail because of it's...chaotic and lively atmosphere and also it's openness to people. It seemed like the perfect place for an oxymoron such as Heero.
Nowadays Heero lives in the guild itself as it's caretaker of sorts. He goes on missions like any other mage and creates a little chaos to entertain himself whether it's in the guild or somewhere else. Heero's living quarters is the guild pantry. He sleeps in a hamoc above the food and eats whenever he's hungry. Fairy Tail is literally his home.
_________________________________________
Faceclaim:
Rokudo Mukuro | Katekyo Hitman Reborn
Last edited by Heero Villenn on Mon Jan 21, 2013 10:24 pm; edited 17 times in total
Heero:

1) Your profile picture is a little too big. Just size it down some. Oh! Make sure it's your avatar too.

2) Physique is 97/150. You need to add more.

3) Attire/Clothing 59/150. Add more.

4)Augment Name: "Future sight" - I'm picturing 'That's so Raven'. xD

You can't change the future, that's a no on that part. If you want to be able to see tiny things from the future, like let's say a massive storm, or a shadowy figure approaching... that's fine.


______________________________
Admin






Posts

: 97



1.) That should fix itself once Photobucket does it's thing. If not then I'll need some help to fix it.

2.) solved

3.) Solved

4.) reworded. Let me know if it looks better.

bumped and completed.

______________________________
Heero Dialogue
Heero Thoughts

AVAILABLE EXPERIENCE/TOTAL NET EXP: 141/691 (as of 3/11/2013)
I approve of your augment. As long as you stick to what you said in the chat box then it is fine. Good job on approval!



Posts

: 132

Magic Sheet
Magic:


(500/500)




______________________________
Heero Dialogue
Heero Thoughts

AVAILABLE EXPERIENCE/TOTAL NET EXP: 141/691 (as of 3/11/2013)


Similar topics
---
Permissions in this forum:
You
cannot
reply to topics in this forum