Greetings traveler.
---
We welcome you to Delirium, where things are not what they seem and magic is just the beginning of your adventure.
---
This is a fairly new site, being only about 2 and a half months old. Our setting takes place about 400 years into the past - x391 being the current year - and dragons freely roam Earthland. While humans and dragons are currently in peace with each other, there is darkness brewing and that fragile line of truce between them might just break soon enough.
---
Episode One: Bastion, The Ironclad Dragon is now open!
---
Enjoy your stay, and please...
---
Stay delirious.
---
---
Administrators
---
Syrena
---
Erik Cecere
---
Global Moderators
---
Heero Villenn
---
Moderators
---
Darion Steinheil
---
Grimm
---
---
Fairy Tail © belongs to Hiro Mashima
---
Fairy Tail: Delirium © Spitfire
---
Pre-made skin is credited to hitskin.com in forumotion. All other codes for FT: Delirium were taken from various coding sites via google. Said codes and pre-made skin have been edited and modified to suit the needs of the website. Any and all other content (i.e.: posts, applications, stories, plots, etc.) solely belong to their creators and makers of FT: Delirium. Nothing may be taken or used without the owner's permission, excluding certain situations listed under the Terms of Service and Rules, which are subjected to change without warning.
---

___________
Mitsuko Izumi Genji
___________
---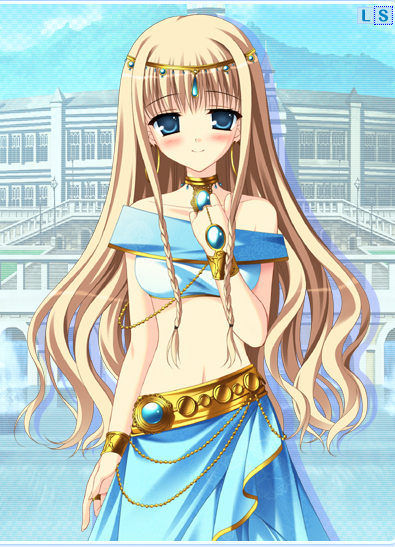 ---
__________________________________________________
"When I wasn't watching they weren't there anymore.
Suddenly, I was alone, surrounded by strangers."
---
Nickname(s):
None Yet
Age:
17
Sex:
Female
Birthday:
25/10/x374
Sexuality:
bisexual
Affiliation:
Light Mage
Rank:
D
Guild:
Melodic Sirens
Guild Tattoo:
Back of her right hand, This color.
Physical Characteristics:
Mitsuko has deep,blue eyes which stare deep, like it gentle peeks into someone's mind. She also has long, blond hair which falls down to her waist. Her face in public as almost always smiling, so that people won't bother her much. They bother a sad girl faster, then a happy girl. Her slender body also emit this jolly feeling, though it is harder to control that is she is not actually happy. She does fail at that if she is really saddened. Then it looks like her face is smiling, but the entire rest of her body is crying. she weights about 45 kg and is about 1.60 m big. She is not that big as you can see. her skin is pretty much everywhere very soft and little tanned. She tans very slowly, but she does not really mind. She likes her skin this way. It also prevents sunburns and such from happening a lot.
despite her light and small, body she can take quite a punch, for a little girl that just started her way as a mage. That said her training was as much physical as magical, as her own magic only increases the effectiveness of her physical attacks.
Attire/Clothing:
Mitsuko wears a small tiara with small blue gems in them. she got from her mother, which she treasures at all times. She also has a choker in the same material from her father, which she treasures as well. Furthermore she sought clothes that would fit by those. First she added a pair of bracelets. She also found a silk top in light blue silk. While in the front it covered her breast as well, in the back it only covers the lower part of her shoulder, and a tiny strap on her back to keep the rest togheter. She did found a skirt with a belt that matched totally with everything she already had. In the same color and material of the top. To finish it she found a pair of leather boots in the same color as the rest. the entire outfit has gold-looking accessories. In fact, it is not real gold. The gems in more then a few places are real. She does not have a lot of other clothing.
Abnormalities:
N/A
Personality:
Mitsuko is a shy, but friendly girl. She usually stays away from people she does not have to meet, or has no reason to. If she sees a reason she might talk to them, but might not get the words she want to say directly, though she might knew them a moment ago. She still know what to say, but not always how to tell it properly. Once she opens her heart to others and gets the know them better, this falls away and she actually might get a little loud. She will still try to keep some decency even then. Mitsuko will mostly give people a fair chance, unless they literally posses a glowing aura of doom. When alone she often cries or is afraid about the next corner. She is also easily frightened, and it might take a while for deciding what to do. Sometimes she knows directly what to do then, but that is not often.
She keeps believing in her parents no matter what, she believes they are alive and willing to return home. They both left and will return. When they do they will find a total different Mitsuko, one that can fend for herself. That is what Mitsuko believes. If they do not come back by then, she will go look for them herself. She might need to leave the guild for a while, but she will definitely come back to it. Even more stronger. That is just some of her daydreaming however. She knows herself that it will take some time.
In combat she will fight her hardest to an opponent, but if he/she/it is to overpowered she will try to flee. Maybe she can get another shot later, when she can defeat said opponent.
Hobbies:
training: She wants to get stronger than her parents so she would have to train, she likes her magic as well. Training with other people makes her learn about other magic as well, which she also likes.
playing games: friendly games or games with a bet, there is little wrong for Mitsuko, as long as it is fun with fun people.
watching the night sky when it is not clouded: She likes to moon and the stars, and spends more then one night a week to look at it. If that is possible.
window shopping: She never had enough money to buy everything she saw, and probably won't have it soon either. she likes looking the windows of the shops and it gets all the better if she sees something she deems cute.
Likes:
her parents, cute things, friends, sweet food, the moon, the stars, books, her guild, magic, nature, water, good people.
Dislikes:
torture, death, small and dark rooms, spicy food, dark guilds, clouds at night, the sun, complicated puzzles, fire, lightning, macho's, cigarettes, alcoholic drinks, bad people.
Inspiration:
she was foremost inspirited to find her parents, and also to surpass them, though she would never tell that to anyone. She never told her parents either, but she was a bit jealous at them for being a stronger then her. She knew in time she might grow that strong as well, but she could not change the fact she was jealous. Secondly she want's the Sirens to respect her.
Fears:
being alone: She does not like being alone, especially in small rooms where she can't see or leave.
Death: Her own dead, but more so the death of those dear to her. If someone close to her dies it feels as if they killed a piece of her as well.
dark, small rooms: she is afraid of being in dark small rooms, were only so many people fit in. It is worse if she is in one alone, or with someone(s) who she does not trust. It is worst of she knows said person is from a dark guild.
Dark guilds: they do such horrible things, it scares her.
Stat PointsAttack:
9
Defense:
9
Speed:
7
Physical Aptitude:
25
Augment Name:
Fish speak
Augment Description:
She does not knows about this yet, but she has the ability to understand and communicate with fish and fish like creatures such as a dolphin. It is possible her magic is partially responsible for this, but there is no clue if it really is or if she always could. She never had a chance to test it before.
none at the moment
Mitsuko was born in Waterfall village. Daughter of a relative young family. the mother was about 19 years old when she was born, the father was about 20 years old at that time. It was not an easy life, but a pleasant one at times. everyone had to work a lot, while the house they owned was cheap in comparison to the other houses. Mitsuko herself was learned magic a rather young age. By her parents, who had a similar magic. Their parents both work as mages. But both of them did not joined a guild.
Young Mitsuko was wondering why, because they heard they payed much better and had more work. When she finally asked they answered that they were happy here, and if they could join a guild they would, but the only guild here only accepts women. Mitsuko's Mother wanted to join a guild with her man, but the Sirens would never accept him, so they are both are guild less. Mitsuko was thinking about joining at one point, if she could be learned any magic. Mostly one was on a job, and the other stayed home to do daily tasks for the home and taught Mitsuko magic. The magic they used allowed to transform certain body parts or in some cases the full body into some sort of creature. both Mitsuko's mother and father used this kind of magic, but they were using different creatures. Mitsuko's Mother mostly changed in some sort of animal, while her father mostly changed in some monster. they called it take over or something like that. they did not learn her yet to use a full body take over yet, that would be to hard for a young girl. the family soon learned that Mitsuko used certain aquatic creatures for her magic. Her first mastery of a full body take over, which basically turned her into a mermaid, which would be great for underwater combat, but not very good at land based combat were it counts. She did not achieve this before she was twelve. But she practiced her magic a lot and might get more forms and with that powers. Most creatures lived in the sea, and those who did not had at least a small connection to a place of much water, such as a swamp or a lake. But not all things from such places are possible candidates for take over
One day, When Mitsuko was fifteen her mother did not return from her request form a long time. The father and daughter waited for a long time, but she did not returned. Father left to eventually he went to do some other jobs, he did return a few more times. Two years after the disappearance of his wife he left to search Mitsuko's lost mother, but he never returned either. She would wait for them, but for that she needed something to do. She was not sure about it, but she remembered her childhood dream of joining the Sirens, maybe that would keep her busy. Maybe she could even go look for her parents one day. She head out to the guild hall of the Sirens, see if she could have any chance to join.
Mitsuko went to their guild building, which was huge and beautiful. While she entered the guild hall she honestly did not knew where to go. except for the woman at the bar, there were a few other women here. No men of course, that was where this guild was known for. The woman at the bar weaved at her, signing her to come closer. Not sure if she actually should she went closer. First the woman asked what she was doing here, as she looked a bit younger as most members, and cause she never saw her here before. Mitsuko was hesitating if she should ask this, but she quickly responded before she could change her own mind. By quickly asking if she could join the guild. The woman seemed hesitant at letting her in, she at least gave her a chance. She asked if Mitsuko could show some magic. She used a quick spell she learned recently, which seemed enough to join. The woman took as strange device Mitsuko never saw before. She did ask what it was, and the woman replied it was for placing her guild tattoo. She gave her right hand, on which the woman placed the tattoo. Mitsuko expected it to hurt, but she actually felt nothing. Basically that would be the magic. She was now in the guild.
Time to show the world what she can do.
---
_________________________________________
Faceclaim:
Caroline Marigold - PrismRhythm
Other Characters:
None yet
Last edited by Mitsuko on Sun Jan 13, 2013 5:19 pm; edited 3 times in total
I heero villenn will be reviewing this app.

______________________________
Heero Dialogue
Heero Thoughts

AVAILABLE EXPERIENCE/TOTAL NET EXP: 141/691 (as of 3/11/2013)
point 1: take out the x391 in your birthday. It overshadows the actual date of birth.

point 2: You'll need to officially join the guild to be apart of melodic sirens in your history. Add a little more at the end saying you were accepted into the guild. Saya Yukimura and Tama are the only two active sirens members, if you want to reference one of them you may with their permission. You do not have to though. Once these two things have been dealt with you should be good.

______________________________
Heero Dialogue
Heero Thoughts

AVAILABLE EXPERIENCE/TOTAL NET EXP: 141/691 (as of 3/11/2013)
by the power vested in me by a guy who lives somewhere in australia I approve this application.

Oh by the way the color is typically refered to as cyan or sky blue if you ever need to use a word.

______________________________
Heero Dialogue
Heero Thoughts

AVAILABLE EXPERIENCE/TOTAL NET EXP: 141/691 (as of 3/11/2013)
Sorry but I'm going to have to temporarily deny this application.

Your birth year is wrong. It's supposed to be x374. Change that and you'll be re-approved.

This has been moved back to pending.
______________________________
ATTENTION MEMBERS OF DELIRIUM!


Spitfire, Sokuseki, and I have resigned from Staff. Any concerns or questions should be forwarded to Syrena.
Admin






Posts

: 264



______________________________
ATTENTION MEMBERS OF DELIRIUM!


Spitfire, Sokuseki, and I have resigned from Staff. Any concerns or questions should be forwarded to Syrena.
Admin






Posts

: 264




---
Permissions in this forum:
You
cannot
reply to topics in this forum